The Artist House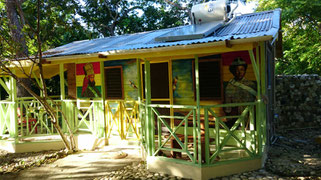 On your way from the main house to the two cottages you will pass by the "Artist house", a colourful wooden cabin. This is to be rented as well. There is a room with two beds and a bathroom (basin, toilet)- and a brand-new outdoor shower. From the veranda you can reach the fully equipped kitchen.
___________________________________________________
         Rates:       
                              low/high season        
                           76/80 US $ per day
                          460/495 US $ per week
Enjoy Jamaica with the "Nervling"
(www.nervling.com)
, who stayed in the Artist House for four weeks and told us via facebook:
..after a most relaxing and beautiful month in Oracabessa unfortunately it's time for us to move on...going back to Kingston tonight...on the road again.

Thank you everybody at www.real-jamaica.com .

Papa Curvin & Joan, Grace, King Harris, Cornelia, Miss Annie & Miss Shirley from the grocery store across the street, Bird (the singing carpenter), Pablo (the garden man), Kurrency (thanks for the ride), and the whole family ...

One love.
Bless up
Reviews of guests who stayed in the Artist House:
I had the great pleasure an honor of staying here if u want to experience the real Jamaica way here's the place to be! Beautiful views amazing people!
The Real Jamaica is a place everyone should stay!! Grace is the most welcoming person and cares for your every need. Pappa Curvin is truly the most amazing man!! The location is everything it describes and more!! The patio is a must!! The sunrise and sets are just so amazing!! Ask about Sugarpot Beach!! It was the best and recommended by Pappa Curvin! I hope to make my next trip back as soon as possible!!  Aug 15
We enjoyed 4 wonderful days in cosy Artist House. Papa Curvin and Joanna make you feel very welcome - and so does the three little dogs by your doorstep :) Highly recommendable! Dream to get back soon ... One Love from Mette and Peter, Denmark. (Dec 14)
Papa Curvin is a real special person to meet. He was the best host and has an extremely good knowledge of the best places to go. A real Jamaican experience and also we saw some paradise like places. Curvin and the gang made us feel very comfortable and welcome and I can't wait to visit him again. He has lots of great stories about his time in Jamaica and his travels around the world. Also the community in the area of Oracabessa looked after us very well and were very walk and made sure we had everything we needed. Papa is very respected in the area as he and his neighbours are doing great things for the community there. The accommodation was dreamy and spent many an evening sat in the gardens and on the decking watching the sunset. It is possible to completely self cater if you wish as the cabin has a cooker, fridge great shower and bathroom and all other mod cons. I would highly recommend staying here.
Hannah
I stayed here for a week in July. It's the perfect place to relax. The beach is just a few minutes away and sitting on the back deck is like a scene from a movie. Curvin was a great host, and does a great tour of the Blue Hole and Sugarpot beach (as well as some interesting spots along the way). Everyone was very welcoming and accommodating. After a few days of walking around the town I felt almost like a local. I'm planning on booking next year as well. My cabin was sufficient, but for anyone interested I'd recommend booking the one closer to the water for the better view.

J. July 2014
The team on they Property around the cotteges ist great, everybody wants you to have a good time. There are 3 cottages on the property, two cottages and the artist house. We booked the artist house, a very nice and colourful little wood-house, full equiped with everything you need for cooking and living. We really liked it!
The location around is very nice: there are many different trees and plants and the cliffs and the deep blue sea, that´s vacation!
If you leave the property you can go shopping to the little supermarket of Miss annie, it´s interessting talking to her and get to know more about land& people. The things we liked best is, that we did not feel like a normal tourist you gets of the ship for 1 day and only get´s a carribean show, we have seen a little piece of the real jamaica and we loved it.
We absolutely loved this place! It was like a dream space to stay in. Very comfortable and clean and has everything you need. Oracabessa is such a beautiful part of the world and Curvin is a very generous and interesting soul who has created this amazing opportunity to stay in a bungalow on his property. You feel like you step right into a community there. Grace, the cook, is more than amazing, I felt like I was being nourished by her awesome Jamaican food and her company.
It really was such a special experience and I will definitely be returning as I loved it so much! Can't wait until next time.
Thanks so much Curvin!

January 2014  Heidi und Mauricio

"One love - jamaica"

Jamaica, land we love! Nach 9 Tagen im Party-Hotspot Negril sehnten wir uns nach Ruhe und Authenzität und hier haben wir ein kleines Paradies gefunden. Unser Empfang von Curvin und Joanna war so herzlich und das Artist house ist richtig schön und jamaicanisch bunt. Vor dem Haus wachsen Orchideen in den Bäumen und es wachsen Früchte, die man noch nie in seinem Leben gesehen hat. Um unser leibliches Wohl hat Grace sich gekümmert, sie ist eine tolle Köchin, von ihr kann man viel lernen. Das Sonnendeck ist der Wahnsinn und wir haben gemeinsam mit den anderen real-jamaica Gästen und den Gastgebern eine Yoga-Stunde am Sonnendeck genossen. We loved it! Bei ruhigem Seegang kann man auch direkt von den Felsen ins Wasser, wunderschön auch zum Schnorcheln. Besonders schön ist es, dass man problemlos mit den Jamaicanern in Kontakt kommt, egal ob beim Einkaufen bei Miss Annie, beim Fischessen bei Dor oder bei der Route-Taxi fahrt nach Port Maria oder Ocho Rios. Schön sind wirklich auch die Strände in der Nähe, am James Bond Beach kann man super schnorcheln und Sonne genießen und abends gibts dann nen Sundowner und tolles Essen. Auch die Fahrt zum Reggae Beach ist lohnenswert, karibische Postkartenmotive! Wir haben unseren Aufenthalt sehr genossen und bedanken uns nicht zuletzt bei Cornelia, die mehr macht als nur die Buchung, sie ist ein Reiseführer, Unsicherheit-nehmer und Berater, tip-top!

M und S, Febr 2014
"This place is very nice to stay and very calm. We loved it to sit at the platform down there and just enjoy the view over the sea. The Real Jamaica Team cared very well and asked us every day if everything is fine. We got enough and fresh towels. There were two very nice Dogs, we liked them- but the Problem was that they were at our Veranda every day and made it dirty. It wasn't annoying but maybe other People don't like that. I can recommend this place to everyone. :)"
Anna
"Nice place between wild tree very close to the sea but There is a rocks so its not easy to access into the sea, but there is a nice deck and brand new cave that u can chill .u can go to the fisherman beach and to the James bond beach ,You can not pass through the beach just from the front , its a walk on the main road until u going into a nice local road with a nice warm and friendly people ,i did it by walking and its not so long (around 15-20 min each direction) but u can do it with the bicycle that the place have . i really recommended to eat in the place "its a Jamaican vibes fe real" .and for the musician there is a cool studio that u can "catch vibes"...and the most important -There are nice people ."
Ron