Real Jamaica - Tours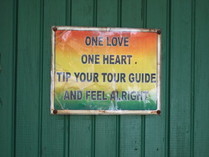 Tours and activities:
Discover other caribbean beaches, cities like Ocho Rios and Port Maria, marvelous waterfalls, Harmony Hall, Fire Fly and so forth by car, taxi (cab rank in front of the estate) or low-priced bus.
Enjoy rafting tours, deep-sea diving or experience the popular tourist attractions like Dunn´s River Falls, Fern Gully, Nine Miles (Bob Marley Mausoleum), Blue Mountains, the Bob Marley Museum in Kingston, Shaw Park Gardens or Dolphins Cove (go for a swim with dolphins!) in Ocho Rios ...
Our Real-Jamaica special:
We arrange various individual tours off the beaten track! Like:
Blue Hole Waterfall and Sugar Pot Beach tour
Day Trip to Ocho Rios (Market, Little Dunn´s River,...)
Port Antonio Tour (Blue Lagoon, walk in the Blue Mountains, ...)
Blue Mountain and Kingston Tour (Blue Mountain Coffee farm, Bob Marley Museum,...)
Cruising excursions:
We can organize special individual excursions for cruise ship visitors!