Real Jamaica - Discover The Island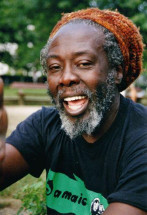 Wat a gwahn,
My name is Curvin Merchant, in Europe known as Jamaica Papa Curvin. You can call me a veteran of Reggae Music. After more than 40 years in Europe I am back on the Island again. I have spent so much time living with, and visiting you all in Europe, that it´s now time for you to visit me in my wonderful, incomparable home Jamaica! You can be a part of the real Jamaica:
Away from the hotel "castles"
Without mass tourism 
Jamaica unplugged
Two Cottages, the Artist House and the Umbrella Hut on my big property by the sea are waiting for you.
Services and amenities
Bedding and towels inclusive 
Housekeeping (cleaning weekly)
Free internet access in main house
Optional traditional Jamaican breakfast / dinner 
We speak English and German
And why not relax on the new patio deck or in the cave? (Have a look at the making of!)
In the vicinity there are lovely bathing beaches and small fishing ports. And we are very close by the Oracabessa Bay Fish Sanctuary.
You can also start out on great discovery tours.
Looking forward to meet you!
Yours
Curvin Merchant 
Meet some of the Real Jamaica Team
Look at Real Jamaica from above: