Real Jamaica - Activities On The Property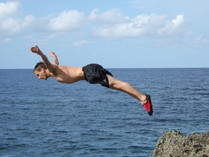 Enjoy:
Relaxing
Yoga
Fishing
Swimming
Snorkeling
Observing tropical birds and butterflies and fireflies
What is more:
Hammocks with sea view in the tropical forest
Numerous tropical fruit trees
Parking space for cars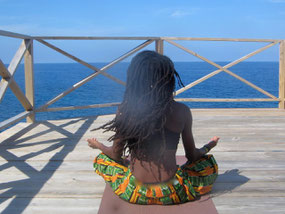 The vacation cottages are located on a large property with a fantastic sea view from a high cliff at the edge of a tropical wood. From here and the new sun deck you can observe the fishermen in their small boats. You may take a brief walk to the shores of their fishing village and purchase your fresh evening meal. Naturally, you may also do your own fishing directly from our property. 
And how about a cooling-down?! From the cliffs you may also dive into the sea whenever the sea conditions allows it (but you have to be a very good swimmer). Swimming shoes are recommended when climbing the cliffs - see photo.
From the comfort of laying on your verandah or in your hammock, you will discover exotic birds and butterflies flying among the tropical vegetation around you.
The landlord, whose house is at the front of the property close to the street, gladly shows and explains to you the wonderful fruits in the garden: mangoes, pineapples, neeseberry, ackee, noni, etc. Try the exotic fruits in season! Ackee, the Jamaica´s nation fruit, must be cooked like a vegetable before eating!