Real - Jamaica Surrounding Areas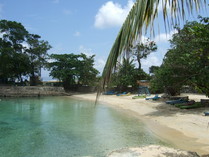 In Walking Distance
Sandy beach

Natural beach
Snorkeling
Diverse shopping opportunities
Eating out
Route taxis for venturing out into the surrounding areas
Swimming:
Within walking distance from your vacation cottage is the picturesque Fishermen´s Beach (here the beach has small pebbles), where you can purchase the freshly caught fish and various types of shelfishes.
A few minutes walking distance away from here is the world-famous James-Bond-Beach with fine beach sand. It has deck chairs, shaded places under trees, a restaurant, bar, WC. There is a minimum entrance fee and it is never crowded with visitors. So, one often swims undisturbed with the colorful fishes. The water is quite calm and transparent due to the reefs below the water.
Shopping:
Around the corner from your vacation cottage sits a charming old woman in her small kiosk. There you can purchase the most important basic foodstuffs; similar typical Jamaican stores and bars are in close vicinity.
The next supermarket can be reached within 15min. walk. In the center of Oracabessa (2 miles distance) there are two more supermarkets, a post office, ATM machines, bars, restaurants as well as a fruit and vegetable market. Larger markets and supermarkets, souvenir shops, local and international restaurants, banks, ATMs etc. are located in the cities of Ocho Rios and Port Maria.
Dining out
Close to your cottage there are several bars and typical Jamaican street restaurants , where you definitely should try  Jerk (Jamaican barbecue speciality) and vegetable dishes..